Support The Work Of Open Schools Worldwide
Motivated by our Christian faith, we are committed to responding to the educational needs of children who are shut out of the traditional school system or are at risk of educational failure for reasons beyond their control. We aim at developing compassionate relationships and a supportive environment to overcome obstacles to learning.
Extreme poverty, neglect, dysfunctional families, abuse, abandonment, death of parents and malnutrition put vast numbers of children around the world at risk.
They often become street children, orphans, working children, and child-headed "families".
These children are powerless to alter their exposure to these life hazards, and generally have difficulty in getting access to basic education.
Open Schools Worldwide seeks to help disadvantaged children break out of the vicious cycle of poverty that they find themselves trapped in by providing them with a basic education.
YOU CAN HELP.
$60 USD is all it takes to give one child this basic education and hope.
So far, Open Schools Worldwide has been able to deliver basic education and hope to over 35,000 children in South Africa, Zambia, Zimbabwe, Swaziland, Kenya, Uganda, and Malawi.
It's a good start, but there is still a long way to go. Help us bring hope through life-changing learning to many more.
If you are a group, church, school, or organization that wants to support one of our sites or participate in fundraising, contact us.
Here is one story from among the 35,000 children we have been able to help: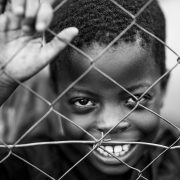 Maybe was born in Zimbabwe but now lives on a rubbish dump in Mooiplaas, South Africa. Her father scavenges for anything he can recycle. Her "house" is a small tin and cardboard shack. She bathes out of a bucket, wears the same donated school uniform every day, and usually goes to bed hungry. But those who meet Maybe are immediately impressed by her resolute spirit, beautiful smile and contagious joy. She never misses a day of Open Schools. Despite her dreadful circumstances, this little girl loves Jesus and always offers to pray for the other children when they are sick or emotionally distraught.